6 foods to help ease your post-royal wedding hangover
20th May 18 | Lifestyle
These will come in handy after any big night out but especially today, if you toasted Harry and Meghan with a LOT of bubbly.
For many of us, hangovers aren't what they used to be. At uni we could drink all night and bounce back after a mere few hours of sleep, but those days are long gone.
The sad fact of the matter is: hangovers get more brutal as you get older. Chances are there are more than a few sore heads today after the festivities of the royal wedding (not to mention the FA cup final).
Licensing laws were relaxed on Friday and Saturday nights, meaning that pubs were allowed to stay open until 1am instead of the usual 11pm – that's a whole two hours more for us to buy drinks (something we might be regretting now).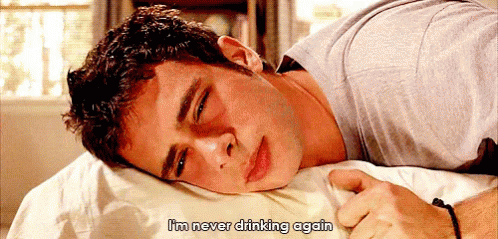 Sitting in a darkened room and ordering a greasy pizza unfortunately won't speed up your recovery. Instead, we spoke the nutritionist Libby Limon (who works with Farmdrop) to find out what foods will best ease your alcohol-induced symptoms.
You might proclaim this morning that you're "never drinking again", but we'd put good money on this not being the last hangover of your life. So learn from this and have your fridge fully stocked next time. Here's what you'll need…
1. Radishes
The humble radish might not be a staple in your veg drawer, but it's worth buying next time you're down the shops. "It contains polyphenol compounds, which help to detoxify the liver and contribute to making your skin glow once again," Limon explains.
Dull, greasy skin is an unfortunate symptom of hangovers – particularly irritating if you actually want to leave the house and see people. There are also longer-term benefits of radishes, and Limon says: "It also contains lots of vitamin C, which works as one of nature's foremost antioxidants to protect against cell damage and ageing."
She recommends: "Always opt for seasonal, fresh fruits and vegetables as they'll contain more vitamins and minerals."
2. Turmeric
Limon calls turmeric "the ultimate superfood spice". Even though "superfood" is something of a murky term that has definitely been overused, there's no denying that the orange powder has a lot going for it.
She says: "It's anti-inflammatory, immune-boosting and a super detoxifier, perfect for reviving your body after drinking."
3. Celery
Okay, we know – celery isn't exactly the sexiest of greens, but that's no reason to shun it. "Rich in electrolytes, it is one of the best vegetables to rehydrate the body following an evening of drinking," Limon says.
She also notes the fact that celery contains potassium. This is a vasodilator, which can help counterbalance the inevitable increase in your blood pressure from drinking alcohol.
If you have absolutely no idea how you would get radishes, turmeric and celery into your hungover body, Limon suggests juicing these ingredients together to make a recovery tonic. "This will support your body, revive you and give you glowing skin," she says.
If all else fails, slather the celery in peanut butter and you won't even know you're eating a vegetable.
4. Coconut water
Even though you're probably used to seeing Lululemon-wearing yogis smugly sipping on coconut water, you don't have to smash an early morning Pilates session to benefit from the drink.
Limon says: "Coconut water contains electrolytes, which will help to rehydrate you quickly and effectively. It helps to re-equilibrate the body's fluid balance." It's equally good for your body after a big night out as it is after a workout.
5. Eggs
After a heavy night of drinking, there's no doubt that your liver has taken something of a beating. That's why you should make sure that your fridge is fully stocked with eggs when you finally emerge from your duvet the next day.
Limon says: "Our bodies make our own antioxidants called glutathione which detox the liver. In order to encourage the production of this antioxidant, we need to eat lean protein. Eggs are a great way to get that protein, as well as vitamins and minerals which come from the yolks."
Not only this, but eggs contain cysteine. Limon explains: "Cysteine breaks down acetaldehyde, a toxin caused by hangovers." Scrambled eggs it is, then.
6. Avocados
Far from just a millennial brunch trend, avocados will actually help you feel better (even if eating them will prevent you from being able to buy a house).
"Avocados are full of healthy fats, antioxidants (such as vitamin E and glutathione), fibre, vitamins and minerals," Limon says. "They are great at targeting the whole body – including the organs that break down alcohol (like the bowel and liver) – and restoring our natural balance."
You can watch highlights from the wedding of Prince Harry and Meghan Markle on 3Player now.

© Press Association 2018