I was caught up in the disgraceful protests outside Burberry - and it wasn't pretty
18th Sep 17 | Beauty
Animal protesters marred one of the biggest events on the London Fashion Week schedule. Lisa Haynes gives her opinion.
I wasn't wearing fur to Burberry (I never do, FYI) but I might as well have been…
Expletives and comments like "animal abuser' were hurled at me as I walked into Burberry's new London Fashion Week show venue, Old Sessions House in Clerkenwell, London. It was 6.25pm and broad daylight.
I was only there to look at some pretty clothes but I was made to feel like I'd committed a heinous crime. A security guard took me by the arm and escorted me inside, away from the mob of angry, placard bearing animal protesters. They're holding signs like 'Fur is Passe' and 'Animals are Not a Fabric'.
"Shame on you, shame on you," bellowed through loudspeakers above the boos and jeers.
I walked into the venue shaking and spoke to a fashion friend who has endured the exact same experience. We went to a catwalk. For work. But were made to feel like the worst people on earth. Surely this isn't the way to bring about serious change in the fashion industry? Intimidating show goers who just need to file copy for a deadline?
The mood of Burberry's show was sobered (and delayed) by the protest that continued outside. Celebrities like Stormzy, Kate Moss and Naomi Campbell were also targeted on their way inside.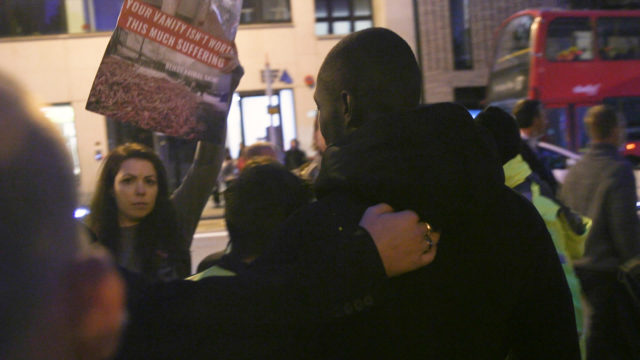 Brand PRs were panicking at the door and some show goers must have felt so threatened I wonder if they even make it inside.
The exit was worse… Police had been brought in, but, post-show, the animal protesters were even more angry and sweary.
I was actually followed by a small gang of activists who circled and filmed me as I made my way home – all because I went to a Burberry show.
I am pro-animal rights and vegetarian and in no way agree with real fur, but baying for show goer's blood is not the way to get fur banned from fashion for good.
© Press Association 2018