Aidan Connor makes SHOCK confession to Eva
13th Sep 17 | Entertainment News
Corrie fans are in for a surprise as Aidan makes a dramatic confession to Eva on the morning of their wedding
Corrie is not to be missed next week as the Eva, Aidan, Maria scandal all comes to a very dramatic head at Eva and Aidan's wedding.
Aidan and Maria are still unaware that Eva has known about their affair for months, is faking a pregnancy and has been plotting revenge against them with the help of Adam Barlow.
Everything is going to plan for Eva until Aidan throws a massive spanner in the works the morning of their wedding.
A guilty Aidan can't cope with lying to his future wife about his affair with Maria, so he confesses the lot to Eva before they tie the knot in the hope of starting married life on a clean sheet.
With Aidan showing genuine remorse for the affair and offering her everything she's ever wanted, Eva's plan for revenge is thrown up in the air and she has to decide whether or not to actually marry him after his admission.
Catherine Tyldesley told the Metro: "It's a real game changer for Eva because even when she found out about the affair she still really loved him which made her hate him even more."
"She can see the absolute sincerity in his eyes – she can see how genuine he is and that he really does love her and the whole thing to him has been a massive mistake."
But it's not all plain sailing from there as an angry Maria storms the wedding ceremony and tells the crowd about the affair leading a furious Eva to push her into a fountain.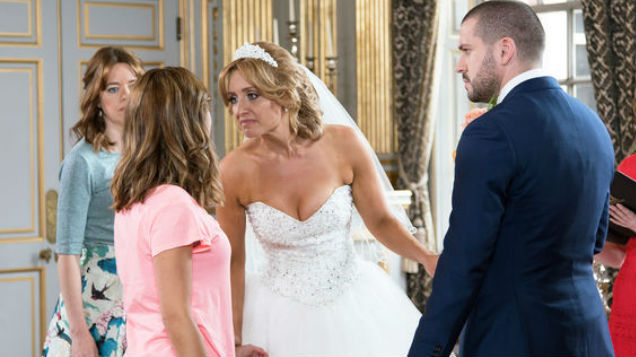 But will Aidan find out about Eva's abandoned plan for revenge? And will they go through with the wedding after all?
Corrie is back on TV3 tonight at 7.30pm or catch up on 3Player now.