[PICS] Chloe Khan shares GRAPHIC before and after pics of her bum surgery
19th Jun 17 | Entertainment News
Chloe decided to give her fans a very intimate look at her before and after surgery pics…
Former X Factor and Celebrity Big Brother star Chloe Khan has shared some very intimate before and after pics of her bum lift with fans.
She recently travelled to Turkey to have several procedures carried out including a Brazilian bum lift and a 'designer vagina'.
Chloe has been busy sharing snaps of her new body to Instagram but her most recent post (now deleted) is quite graphic.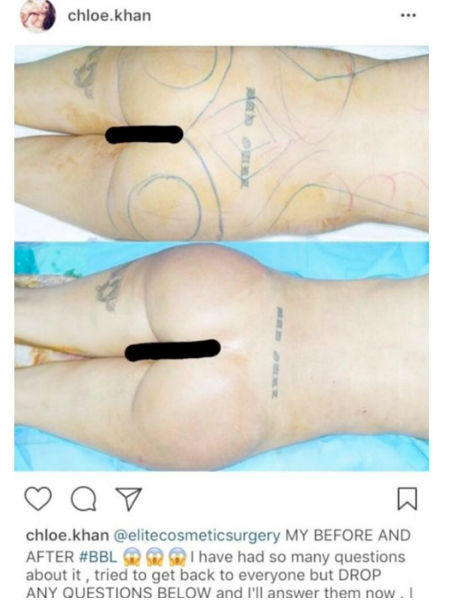 She posted alongside the picture: 'MY BEFORE AND AFTER #BBL. I have had so many questions about it, tried to get back to everyone but DROP ANY QUESTIONS BELOW.'
The picture shows her bottom marked out before the surgery, and an after shot with the results.
Since undergoing the procedure, Chloe has been flaunting the resuts on social media.
The procedure would have seen fat removed from other parts of Chloe's body including her stomach and thighs and injected into her bum. Nice…
Chloe is no stranger to plastic surgery. She spent £9,000 on a second nose job in February, £20,000 on having HH-cup implants put into her boobs, £8,500 on white veneers, and £10,000 on lip fillers.