London Fashion Week: Smoking, drinking and dancing on the catwalk at Molly Goddard
16th Sep 17 | Beauty
This is not how models normally behave.
Molly Goddard always puts on one of the most joyful shows of London Fashion Week – last season she plonked a dinner party in the middle of the catwalk – and today's was no exception.
Edie Campbell opened the show, practically skipping down the runway in a billowing white smock dress with a glass of wine in one hand and a cigarette in the other. OK, it was an e-cigarette, but as she swigged and puffed her way back down the catwalk the tone was set for this carefree collection.
'My doctor told me to watch my drinking. Now I drink in front of a mirror,' was the quote at the top of the show notes, going on to say that for spring, Goddard's girl is relaxed, confident, and has time 'to pause, to look and take in what's around her.'
That explains why the models seemed in no rush to get to the end of the catwalk, stopping at the top of raised platforms to pose, twirl and gaze upon the audience. It was all rather enchanting, and prompted ripples of applause from the crowd.
And the clothes? There were plenty of the voluminous tulle dresses for which Goddard is famous, in black, white and cornflour blue, but this time around the designer showed a handful of looks in sleeker silhouettes – and they were just as appealing.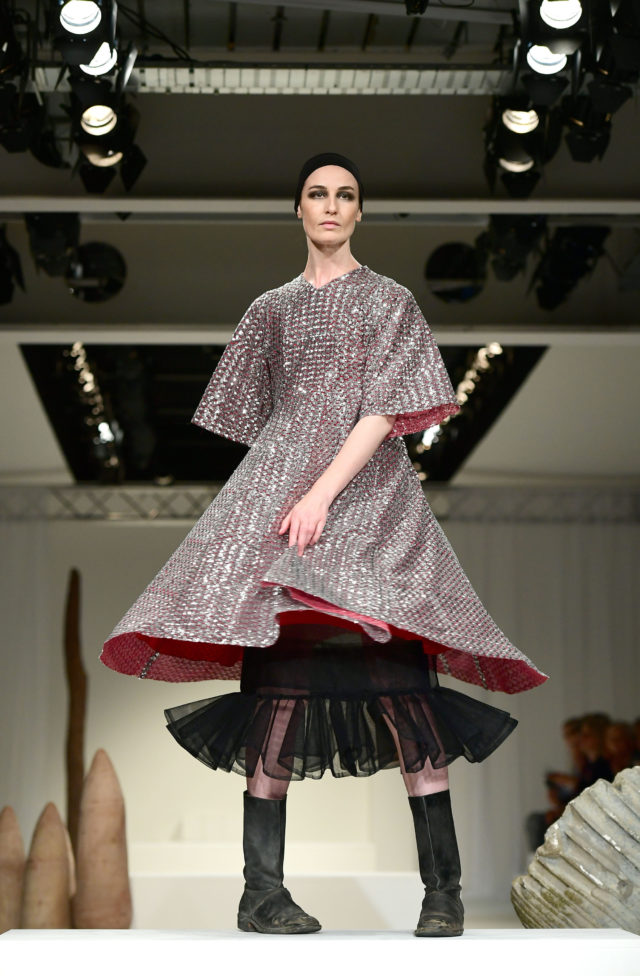 Even more desirable were the stunning frocks covered in sequins that shone spectacularly as the models moved, included a double-layered dress worn by supermodel Erin O'Connor.
For the finale, the girls came out in pairs, some clutching wine glasses, as if the after party had already started.
Models that smile and skip rather than scowl and stomp? We'll drink to that.
© Press Association 2017