This Nineties throwback is officially the hairstyle of the season: Here's how to get the look
19th Mar 18 | Beauty
Buns are back and now they've got the catwalk seal of approval.
Along with mom jeans, bucket hats, slip dresses and countless other Nineties style classics, there's a hair style that's been slowly but surely making a comeback of late.
Rocked by the likes of Britney Spears, Gwen Stefani, Janet Jackson and, most famously, Emma Bunton, double buns were ubiquitous in the mid-Nineties -usually worn slightly messy, high on the head, with a fringe or a few strands of hair left loose at the front.
In the last year, 'space buns' have become popular with models like Kendall Jenner and Cara Delevingne. They've been seen on the red carpet – thanks to Millie Bobby Brown and Margot Robbie – and this low double bun style got a lot of love when it was shared on Instagram by GHD.
The throwback style also won the high-fashion seal of approval earlier this month, after models on the Opening Ceremony SS18 catwalk were given high buns.
The show took place at Disneyland and the double 'do was inspired by Minnie Mouse, who took to the catwalk with designers Carol Lim (who also had mouse ears buns) and Humberto Leon.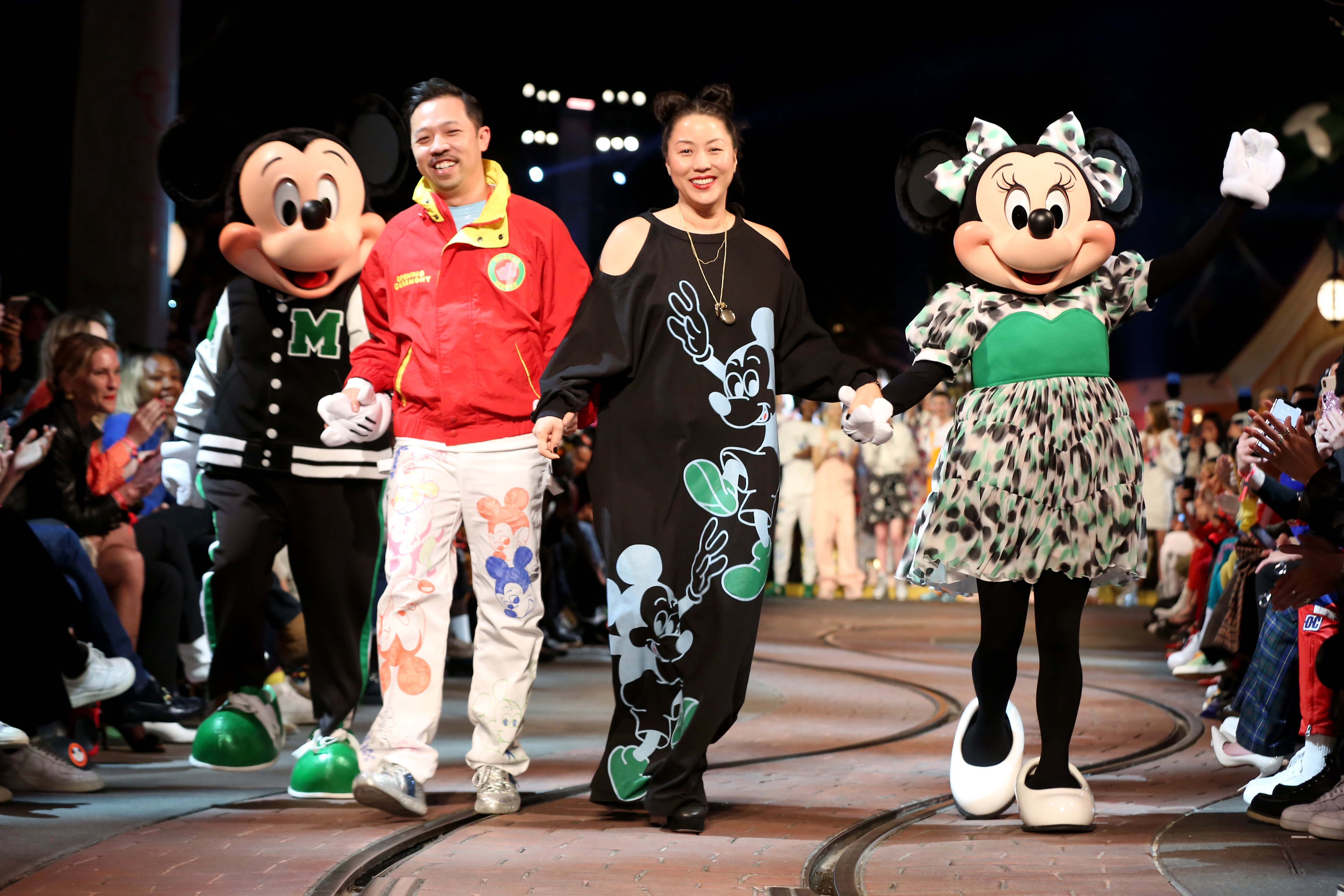 Want to try the twin topknot style yourself? It may look simple, but there are a few things you need to know to make sure your buns stay in place, which is why we've enlisted the help of GHD guest hairstylist Patrick Wilson to give us his tips.
"Last summer, space buns were one of the hottest trends and this spring, the Princess Leia-inspired hairdo is set to be a big hit again," Wilson says, "but with slight variations, from high buns on top of the head, to low buns at the nape which are more low key and wearable on a daily basis."
Here, he explains how to get the look whether you have short or long hair.
Minnie Mouse Buns – high on the head
1. For a style like this to last all day, you need good grip and hold in the hair so prep with the GHD Root Lift Spray, £12.95, before blow drying. Then add GHD Total Volume Foam, £14.95, for lasting volume and fullness.
2. Split hair into a natural parting with fingers, then create two pony tails. Backcomb each of the bunches to create added texture and work each pony tail individually.
3. Twist the hair and loosely spin into a circular shape to create each of the 'space buns'. Don't be too precise with these movements – the looser and messier the better!
4. Secure in place with pins where necessary and pull out longer pieces of hair at the hairline sporadically for a chicer finish.
5. Smooth out any frizz and add loose curls to the front hair sections using the GHD Gold Styler, £139, and frame the pieces of hair at the front of the face using the styler too.
Low Double Buns – at the nape
"These are perfect for next-day hair when you don't have the time to wash it! Spritz up the roots with some dry shampoo or root lift spray," Wilson says. "Follow the steps above but for step two, create two low ponytails at nape of neck."
If you have short hair…
"Short hair will require more texture in the ponytails to create full buns," Wilson advises. "For instant texture, crimp the ponytails with the GHD Contour Professional Crimper, £76, for instant bold volume and texture. This will give the appearance of more hair for the buns."
If you've got long hair…
"Super long hair won't need to be backcombed as there will be enough texture and hair to fill out the buns. If hair is super long and textured – and is too big to twist into buns – straighten the ponytails before twisting into the buns. This will smooth hair and make it more manageable to work with."
© Press Association 2018