Sorry, TV3 videos are no longer available to watch in your region

We now have a new home on the Roku box where all your favourite, award-winning TV3 programming as well as latest Irish news are available to view. For more information on how you can stay up to date with the best of TV3, please visit www.tv3.ie/roku
DIY collars
Channel fashion maverick Karl Lagerfeld this autumn with a dramatic embellished collar.

That's right ladies, the rise of the oversized collar is the latest accessory must-have that will inject instant drama to your everyday wardrobe.

"The collar is the new statement at the moment. A lot of designers are doing them in their collections and no one can do it better than Karl Lagerfeld," says stylist Courtney Smith.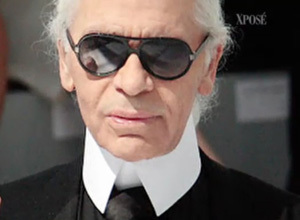 This typically male staple frames your face and fuses beautifully with feminine sequins and lace.

But when it comes to dressing up your blouse or button down shirt this autumn, why not get scissor-happy with leather, ribbon or beads and become a savvy DIY fashionista.

Courtney gives us some top tips on ways to customise a contrast collar at home.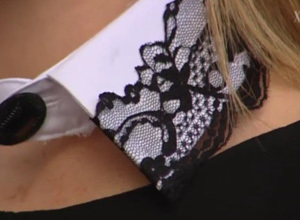 Plain white shirt from Penneys. Cost: €6
Lace and button from Hickeys Fabrics

"This is our first look. It is a plain men's white shirt from Penneys for €6 and we made it a little more exciting by adding black lace. You'll need some Wonderweb and a hot iron as well."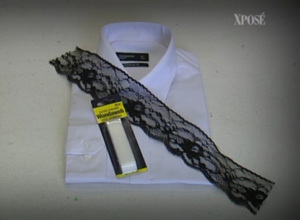 "You simply cut around the shirt to create your collar. You can then Wonderweb the excess fabric by turning it up underneath the collar for a cleaner finish. Next measure the Wonderweb and lace to the shirt and iron them on as straight as you can so the lace sticks to the collar."

Courtney then embellished the collar by adding a large black button.
However, if you would prefer a pop of colour to brighten your look, Courtney created this bejewelled take on the trend by dollying up a pink shirt with ribbon, fabric flowers and colourful butterflies.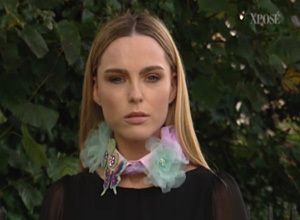 Plain pink shirt from Penneys. Cost: €6
Ribbon and assorted embellishments from Hickeys Fabrics

Courtney says the must-have tools for this look are fabric glue to attach the flowers and invisible thread to stitch together and hold the ruffled ribbon.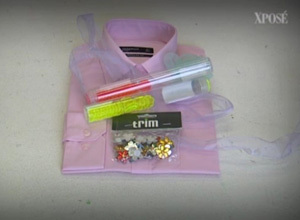 So why not take a cue from Courtney this season and put your own stylish stamp on your work and play wear with a Lagerfeld-inspired collar.

For more DIY takes on this trend, click on the video above or alternatively pick up a shirt and embellishments at a Penneys and Hickeys Fabrics near you.