Sorry, TV3 videos are no longer available to watch in your region

We now have a new home on the Roku box where all your favourite, award-winning TV3 programming as well as latest Irish news are available to view. For more information on how you can stay up to date with the best of TV3, please visit www.tv3.ie/roku
Amy and Brian expecting a baby!
Amy Huberman and Brian O'Driscoll has announced that they are expecting their first child.
The Threesome actress and her rugby playing husband are believed to be 'over the moon' about the news.
The celebrity couple found out a couple of weeks ago and have been quietly telling friends and family the good news.
Amy told the Sunday Independent: "Its going to be an adventure for both of us."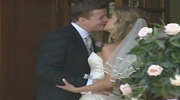 Click here to see Brian and Amy's big day back in July 2010.




Move over Beyoncé, there's another baby bump that's got our attention today. Yes, the one sported by actress Amy Huberman.