Xpose presenter Karen Koster was all smiles as she married her partner of five years, John McGuire, at the Chiesa di Santa Caterina church in Taormina, Italy, last week.

Our very own Xposé beauty Karen and John tied the knot, in a romantic, intimate ceremony.

The couple were surrounded by a group of close family and friends.

Karen told us today that it was a "beautiful, emotional and hilarious day" and that she's "happy to be John's wife!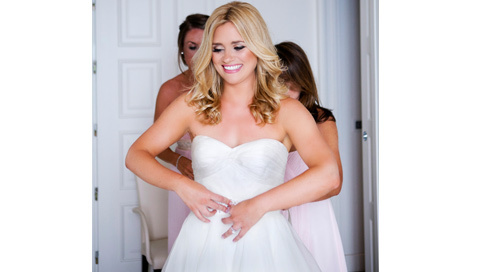 Karen's wedding dress was from The White Room in Mullingar. Details of the dress were kept under wraps till the big day.

Karen and John revealed the following to VIP Magazine, which covered the wedding:

You were on time, Karen...

Yes, I had to slow down on my way to the church, because I was too on time. Put it this way: I was a very eager bride!

John, what was going through your head as you waited for Karen at the altar?

It's a really surreal experience when you're up there. So when she arrived I was thinking, thank God you're here, this was getting weird!! Normally, nobody asks me how I'm feeling, but I must have been asked that question about forty times before Karen did arrive. I was thinking: why are you asking me? Do you know something I don't?! And then people were telling me "She's beautiful, so beautiful", and I was like: "I know. It's not a lucky bag, not a blind date. Didn't I pick her?! I know what's coming!!" She looked absolutely great.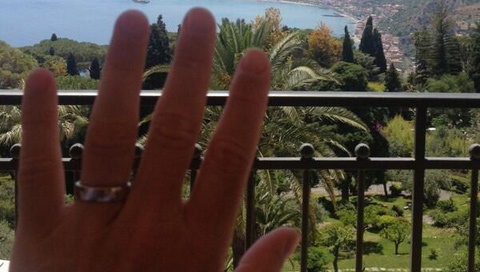 John tweeted the above picture, the following day saying:

My only piece of jewellery! I'm a new man (ish)

The wedding reception was held in the Grand Hotel Timeo, which also features in the new issue of VIP Magazine, which goes on sale on Monday.

Did you speak, Karen?

Yes, I was very keen that I would speak as well. So that seemed to go down well. As Jenny McCarthy was both a guest and our wedding photographer, her husband Martin King was also with us. Every time I got emotional during my speech I'd say: "Ok Martin, it's over to you for the weather...!" It was very relaxed and funny. Then John spoke beautifully. There was no shortage of humour in any of the speeches.

Speaking of dancing into the night, what song did you choose for your 'first dance'?

We didn't actually do an official first dance. But at around 4'o'clock in the morning, one of our guests sang A Rainy Night in Soho by the Pogues, and that's our 'song'...so that was a close approximation to a first dance! It was perfect for us.

The new issue of 'VIP magazine', on sale Monday, contains coverage of the Italian wedding.

Wedding photographer: Jenny McCarthy