The Bord Gáis Energy Book Club on Ireland AM highlights books chosen by the cast with critic Bob Johnston. A new novel is selected for the viewers to read and discuss each month. Because of the Bookclub's wide popularity, many obscure titles have become very popular bestsellers.

We're looking for bookworms! If you would like to appear on the show and share your views, click here.

May's Book:
The Great Fragola Brothers: The Twisted by Joe Prendergast
Read Our Reviews...
Listowel Writers' Week

21.05.13 Listowel Writers Week is in its 42nd year, and once again will feature plenty of writing talent from home and abroad. Some of the newer features this year include a series of exchanges with literary events and festivals outside Ireland,...

Joe Prendergast

07.05.13 Joe Prendergast started writing at 5, bagged a dream book deal at 9 and has just published his second book at the age of 10! 10-year-old author Joe Prendergast has just finished his second book, The Twisted. The young Dubliner...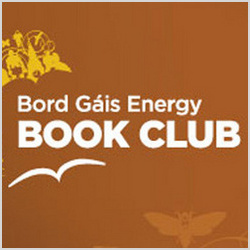 April Winner

29.04.13 Congratulations to James Curry from Dublin who was the winner of this month's Book Club review competition, for his review of "Strumpet City": Prose breaking into poetry, characters leaping from the page, history through the eyes of a...

Strumpet City review

16.04.13 Bob Johnston joined us to give his review of this iconic piece of Irish writing. Read his review below!Bob's review Set across seven years, from 1907 to 1914, 'Strumpet City' is an historical novel that centres on the Lockout of...

Strumpet City

09.04.13 Strumpet City by James Plunkett is our book club choice for April, and marks the centenary of the lockout of trade unionists by employers in 1913, on which the book is based. The Lockout was a pivotal event in Irish...

March Winner

25.03.13 Congratulations to Jamie T Murphy from Co. Wexford who was the winner of the March Book Club competition, for her review of Cloud Atlas by David Mitchell.Here's Jamie's winning review..."Cloud Atlas. What? Sprawling. Mental. One story....