Animal A and E


Week 12: Hank, Hector and Perry
12.04.12 Name: ...


Week 11: Patrick, Sydney and Sparta
05.04.12 Name: Patrick Breed: ...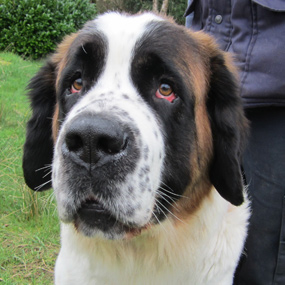 Week 10: Beauty and Hazel, Bart and Homer and Misty
29.03.12 Name: Beauty and Hazel Breed: ...


Week 9: Swiss, Murphy, Moe
22.03.12 Name: Murphy Breed: ...


Week 8: Cassie, Shakira, Andy
15.03.12 Name: Cassie Breed: Labrador x Sex: neutered female Approx. Age: 5 years Personality: Lovely and friendly girl. House trained and lead trained. Will need to live indoors . Background: Was adopted from IPSCA as a puppy...


Week 7: Mr. Jones, Teddy, Mojo
01.03.12 Name: Mr. Jones Breed: trotter x cob Sex: gelding Approx. Age: yearling Personality: Timid and shy boy. However he is coming on well with training and should mature into a nice riding pony. Background: was rescued along with his...


Week 6: Salem, Thor & Tara
24.02.12 Name: Salem Sex: neutered male Approx. Age: 1 year Personality: Extremely friendly, loves people. Salem will be a very rewarding pet. Background: He was brought to the Centre as owner was unable to look after him. Name:...


Week 5: Larry, Foxy, Whoopi
08.02.12 Name: Larry Sex: male Personality: Handsome young man. Needs to be rehomed where there are existing hens and shelter from the elements and for night roosting. Background: Removed by ISPCA inspectors from unsuitable...


Week 4: Belle, Lottie and Sinbad
31.01.12 Name: Belle Breed: spaniel x Sex: neutered female Approx. Age: 2010/2011 Personality: Very playful and active, affectionate and friendly. Will make a gorgeous pet . Background: Rescued by ISPCA inspectors as she wasn't receiving the...


Week 3: Rocky, Bindy & Wendy
26.01.12 Name: Rocky Breed: Weimaraner x Setter Sex: neutered male Approx. Age: 12months Personality: Adores attention, housetrained, good with other dogs. No great with cats or other small mammals, very good with children. Regular...