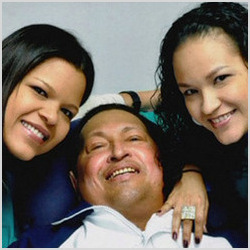 Tuesday
Cloudy
High 18°C
Low 14°C
Chavez's body arrives at Military Museum for ceremony
Tweet

16.03.13


Tens of thousands of Venezuelans took the streets of Caracas yesterday to bid their last farewell to late leader Hugo Chavez.

Chavez's coffin was transported in a hearse to a hilltop museum in a working class neighbourhood.

The route was lined by supporters wearing red carried banners, Venezuelan flags, flowers, and placards bearing the image of Chavez.

As the procession made its way through the streets of Caracas, people cheered, cried and shouted.

"I think I will cry for him forever," said 73-year-old Chavez supporter Carmen Teresa Diaz.

Inside the museum, where Chavez led his failed coup in February 1992, a military ceremony was held.

Military officials surrounded Chavez's coffin and saluted their late commander.

"To the victory forever dear commander. You may go in peace, we will continue your mission here," said Venezuela's acting president Nicolas Maduro.

Chavez's coffin will remain at the museum, while authorities decide its final resting place.

Maduro had said Chavez's body would be perpetually displayed but changed course Wednesday by revealing the appropriate preparations had not been made to preserve the body for so long.