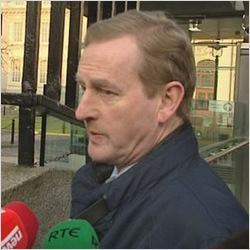 Monday
Partly Cloudy
High 17°C
Low 16°C
Ireland may get longer to repay loans
Sorry, TV3 videos are no longer available to watch in your region
We now have a new home on the Roku box where all your favourite, award-winning TV3 programming as well as latest Irish news are available to view. For more information on how you can stay up to date with the best of TV3, please visit www.tv3.ie/roku
Tweet

05.03.13


Ireland may get longer to repay the portion of the bailout loans it received from the EU.

Eurozone Finance Ministers meeting in Brussels last night agreed in principle to extend the maturities of the emergency loans extended to Ireland and Portugal, which could ease pressure to return to the bond markets.

The deal will be discussed when Ministers meet again today, and the full details could be finalised by the time they meet again in Dublin next month.

In the past half hour, Taoiseach Enda Kenny said it was good news for Ireland.