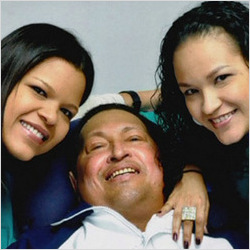 Tuesday
Mostly Cloudy
High 18°C
Low 14°C
Chavez in "very delicate" state
Tweet

05.03.13


A new and severe respiratory infection has put cancer-stricken President Hugo Chavez in a "very delicate" state and his breathing has deteriorated, Venezuela's communications minister announced on yesterday.

In a statement he read on national television, Ernesto Villegas said Chavez's "worsening respiratory function" was related to a weakening of his immune system and "a new and severe respiratory infection".

Villegas added that Chavez was "standing by Christ and life, conscious of the difficulties he faces and strictly following the programme designed by his medical team."

The president's cancer was first diagnosed in June 2011 and he has undergone radiation treatment and chemotherapy after several operations.

Chavez has not been seen or heard of - other than proof-of-life photos released on 15 February - since he flew to Cuba for his fourth and last surgery for an unspecified cancer in the pelvic region.

The surgery was performed on 11 December and the 58-year-old leader was flown home to Venezuela on 18 February.

Vice-President Nicolas Maduro said last week that Chavez suffered a severe respiratory infection in the last days of 2012 that nearly killed him.

A tracheal tube was inserted then and government officials have said his breathing remained laboured.

Maduro, who Chavez has said should succeed him, also announced that the president had begun receiving chemotherapy around the end of January.

Medical experts have said that such therapy was not necessarily to try to beat the cancer into remission but could have been palliative, to extend Chavez's life and ease his suffering.