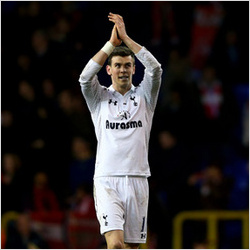 Thursday
Thunderstorm
High 18°C
Low 14°C
Bale scores again as Spurs beat Arsenal
Tweet

03.03.13


Gareth Bale maintained his run of scoring form to set Tottenham on its way to a 2-1 win over Arsenal.

The win opens up a seven-point gap between the North-London rivals in the race for Champions League qualification.

Bale - with his 10th goal in his past eight games - and fellow winger Aaron Lennon scored in a three-minute span at the end of the first half, proving enough to keep Spurs in third place with 10 games left.

The loss will be extremely disheartening for Wenger, whose team made had its best start for some time before crumbling completely despite some near-disastarous mistakes from Spurs.