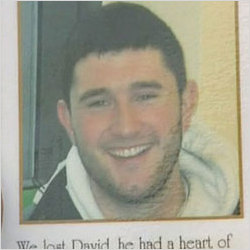 Thursday
Thunderstorm
High 18°C
Low 14°C
Man sentenced for stabbing murder
Sorry, TV3 videos are no longer available to watch in your region
We now have a new home on the Roku box where all your favourite, award-winning TV3 programming as well as latest Irish news are available to view. For more information on how you can stay up to date with the best of TV3, please visit www.tv3.ie/roku
Tweet

04.02.13


A man who stabbed a teenager to death has been sentenced to life in prison.

Marcus Kirwan, from Drimnagh in Dublin, lured his victim David Byrne into an ambush by sending him text messages pretending to be a girl.

There were emotional scenes outside of the court today as David Byrne's father was embraced by his family outside court today after seeing the man who murdered his son sentenced to life in prison.

19 year old Marcus Kirwan from Drimagh, was found guilty by a jury of luring the teenager down a laneway in Inchicore and then stabbing him to death. Marcus Kirwan had denied killing 19 year old David Byrne, who was also from Drimnagh, on the night of the 19th of March 2011.

During his trial, the court heard the teenager was ambushed, after Kirwan sent him text messages pretending to be a girl. The jury was shown CCTV footage of the victim being chased into a dead end at the Emmet Court apartment complex in Inchicore.

David Byrne was stabbed a total of nine times and died a short time later in St. James' hospital. Gardaí arrested Marcus Kirwan three days later.

David Byrne's mother died of cancer exactly four weeks after the attack and her family, who were in court today, have said that the verdict will allow her to rest in peace but that they will never be able to get over David Byrne's death.