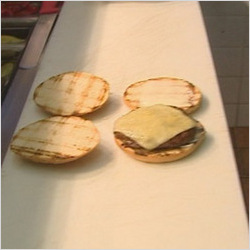 Thursday
Thunderstorm
High 18°C
Low 14°C
Horse meat found in beef burgers
Tweet

16.01.13


Investigations are underway after horse meat was found in beef burgers on sale in a number of supermarkets around the country.

The Food Safety Authority is reassuring consumers saying there is no risk to people's health.

The situation came to light following a targeted study by the Food Safety Authority looking at the authenticity of a number of beef burgers, beef meal and salami products available for purchase in shops here.

The products were on sale in five different chains - Tesco, Dunnes Stores, Aldi, Lidl and Iceland.

A total of 27 beef products were analysed, 10 tested positive for horse DNA and 23 tested positive for pig DNA.

Horse meat accounted for nearly 30% of the meat in one sample from Tesco.

Meat Industry Ireland says the sample results suggest this was a case of non-deliberate cross-contamination from raw material supplied for processing.

The Department of Agriculture is looking into the findings.

Separate investigations are being carried out by the processing plants involved two here in Ireland - Liffey Meats and Silvercrest Foods as well as the Dalepak Hambleton plant in the UK.

Consumers are being assured there is no threat to their health and all the products have been removed from the shelves.