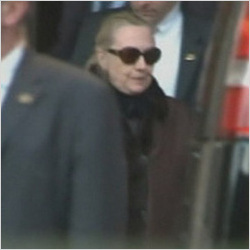 Friday
Mostly Cloudy
High 17°C
Low 14°C
Hillary Clinton has been released from hospital
Tweet

03.01.13


US Secretary of State Hillary Rodham Clinton has been released from a New York hospital where she was treated for a blood clot in her head.

Earlier on Wednesday Clinton was seen getting into a vehicle with her husband, Bill, daughter Chelsea, and a security contingent to be taken from the Columbia University Medical Center to another department of the New York-Presbyterian Hospital.

Clinton spokesman Philippe Reines says her doctors advised her that she has been making progress on all fronts and are confident she will make a full recovery.

He says Clinton is appreciative of the excellent care she received at New York-Presbyterian Hospital and is eager to get back to work. A date for her return to the State Department has not been set.

Clinton had been in the hospital since Sunday, where she was being treated with blood thinners to dissolve the clot.

Doctors discovered the clot during a follow-up exam stemming from a concussion she suffered earlier in December.

Clinton was admitted to hospital on Sunday for treatment of a clot stemming from a concussion she suffered earlier in December.

While at home battling a stomach virus, Clinton had fainted, fallen and struck her head, a spokesman said.

The 65-year-old Clinton hadn't been seen publicly since December 7.

The illness has raised questions about Clinton's political future and how her health might influence her decision about whether to run for president in 2016, as prominent Democrats have been urging her to consider.