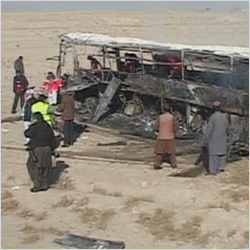 Wednesday
Partly Cloudy
High 19°C
Low 15°C
Up to 40 killed by militants in Pakistan
Tweet

30.12.12


As many as 40 people have been killed by militants in two separate incidents in Pakistan.

A suicide bomber rammed a vehicle containing explosives into a bus carrying Shiite Muslims on a pilgrimage. The incident, which took place in the southwest of Pakistan, left 19 dead and 25 others wounded.

Earlier on Sunday (30.12.12) the bodies of 21 policemen who are believed to have been kidnapped by the Taliban were found in Pakistan's troubled northwest tribal region.

The two incidents come at the end of a year which has seen a pronounced spike in violence in Pakistan. Many of the killings have been carried out by Sunni Muslims targeting members of the Shiite community, who they believe to be heretics.