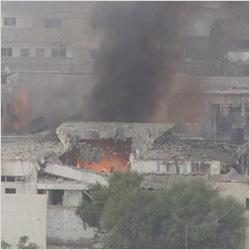 Monday
Partly Cloudy
High 17°C
Low 16°C
UN's Ban Ki-moon calls for ceasefire
Sorry, TV3 videos are no longer available to watch in your region
We now have a new home on the Roku box where all your favourite, award-winning TV3 programming as well as latest Irish news are available to view. For more information on how you can stay up to date with the best of TV3, please visit www.tv3.ie/roku
Tweet

19.11.12


The death toll in the Middle East is soaring following Israeli strikes in Gaza.

EU foreign ministers are meeting in Brussels to discuss the crisis.

The Tanaiste Eamon Gilmore has expressed concern at the possibility of escalating violence.

U.N. Secretary-General Ban Ki-moon has called for a ceasefire in the Middle East, after 12 people were killed in an Israeli airstrike in Gaza.

Fears are growing that Israel could mount a ground invasion of Gaza, as violence in the region continues to escalate.

The Israeli Prime Minister Benjamin Netanyahu has confirmed the country's soldiers are ready for any activity.

Violence between Palestinians and Israelis has been escalating for days now.

Thick black smoke rose above Gaza City after an Israeli missile hit the headquarters of the Palestinian National Security Forces.

The air strike caused a huge explosion, leaving one building in flames.

Today, an Israeli air strike levelled two houses belonging to a single family, killing two children and two adults and injuring 42 people.

In all, 81 Palestinians, half of them civilians, have been killed in the five day onslaught.

US President Barack Obama said he was in touch with players across the region in hopes of halting the fighting.

Britain has warned that a ground invasion of Gaza will cost Israel international support and sympathy.