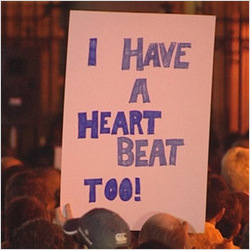 Tuesday
Mostly Cloudy
High 18°C
Low 14°C
Protest over abortion laws after Savita's death
Sorry, TV3 videos are no longer available to watch in your region
We now have a new home on the Roku box where all your favourite, award-winning TV3 programming as well as latest Irish news are available to view. For more information on how you can stay up to date with the best of TV3, please visit www.tv3.ie/roku
Tweet

15.11.12


The HSE is to appoint an independent external expert to the team investigating the death of Savita Halappanavar.

Further demonstrations are being planned, after around 2,000 people took part in a rally outside Leinster house last night following of the death of Savita Halappanavar.

The 31 year old died of septicaemia a week after she was admitted to University Hospital Galway.

Organisers say up to 2,000 people turned up last night outside Leinster House to protest against the lack of abortion legislation.

They heard calls for the government to finally legislate for the 20-year-old X Case.

At one point, protestors held a silent sit-down protest.

Organisers of this evening's protest are now planning a march in Dublin for this Saturday afternoon.

They have also called for pickets outside Irish embassies abroad, to keep up political pressure for abortion legislation here.