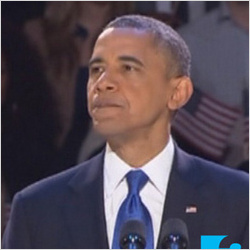 Saturday
Rain
High 15°C
Low 13°C
Obama wins second White House term
Sorry, TV3 videos are no longer available to watch in your region
We now have a new home on the Roku box where all your favourite, award-winning TV3 programming as well as latest Irish news are available to view. For more information on how you can stay up to date with the best of TV3, please visit www.tv3.ie/roku
Tweet

07.11.12


Barack Obama has been re-elected as President of the United States.

In the end, he defeated Mitt Romney by a convincing margin.

Signed, sealed and delivered - having just secured four more years in the White House, Barack Obama took to the stage with his wife and children to address cheering supporters in Chicago.

He also extended an olive branch to his unsuccessful rival Mitt Romney.

The sentiments were shared by Mitt Romney during his concession speech, telling supporters that it was time to put party politics aside and work together for the good of the country.

The major turning point came shortly after four o'clock this morning Irish time when Barack Obama won Ohio and claimed victory - he defeated Mitt Romney in almost all the major battleground states.

Obama supporters gathered in cities across the US to celebrate - some of the biggest crowds were outside the White House.

As with all recent elections, Twitter played a major role.

Barack Obama's official account sent out the words "four more years" along with a picture of the President hugging his wife Michel - it has become the most re-tweeted message ever sent.

He may have secured a second term but Barack Obama is facing huge challenges.

He has to tackle a national debt of $16 trillion dollars.

He also has to confront the so-called "fiscal cliff" - $600 billion dollars' worth of tax hikes and spending cuts which will hit the US at the end of the year unless he can agree a deal with Congress, a house which is controlled by the Republicans.