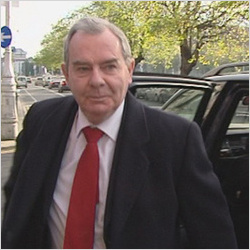 Tuesday
Partly Cloudy
High 17°C
Low 8°C
Sorry, TV3 videos are no longer available to watch in your region
We now have a new home on the Roku box where all your favourite, award-winning TV3 programming as well as latest Irish news are available to view. For more information on how you can stay up to date with the best of TV3, please visit www.tv3.ie/roku
Tweet

02.11.12


Former billionaire Sean Quinn has been sentenced to nine weeks in jail by the High court
The businessman has agreed to begin serving his sentence despite lodging an appeal to the Supreme Court.
Ms Justice Elizabeth Dunne sentenced the 66 year old for contempt of court this morning.
In putting the sentence of nine weeks on Mr Quinn, the Judge said she was taking into account his ill health, his age of 66years and the level of cooperation.
She also referred to his affidavit that was read to the court yesterday in which he said there has been a devastating impact on this family as a result of this.
The Judge said: "He only has himself to blame."
To put the length of the sentence in context, his son Sean Junior was jailed for three months for one charge of contempt ant the Supreme Court upheld that sentence.
Sean Quinn Senior was found guilty of three counts of contempt and was jailed for nine weeks. His team may believe that this sentence would also be upheld by the Supreme Court.