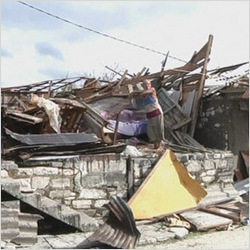 Friday
Windy
High 13°C
Low 5°C
Hurricane Sandy leaves at least 20 dead in Caribbean
Sorry, TV3 videos are no longer available to watch in your region
We now have a new home on the Roku box where all your favourite, award-winning TV3 programming as well as latest Irish news are available to view. For more information on how you can stay up to date with the best of TV3, please visit www.tv3.ie/roku
Tweet

26.10.12


At least 20 people have been killed by Hurricane Sandy in Cuba, Haiti and Jamaica.

It's now swept north over the Bahamas.

Forecasters warn the storm could pose a major threat to the US East Coast.

A massive cleanup operation is now underway in Cuba, after the hurricane made landfall yesterday battering trees and buildings.

The United States Hurricane Centre says the storm hit with winds of 114 miles per hour.

Sandy has now dropped to a category one hurricane with winds of 90 miles per hour.