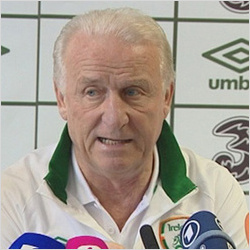 Friday
Windy
High 13°C
Low 5°C
Trap opens up about meeting that spared him
Tweet

19.10.12


Just two days after he was spared the sack, Giovanni Trapattoni was in Dublin today to address the fallout of the meeting that saved him.
The FAI revealed a short time ago that Trap had met Chief Executive John Delaney at FAI headquarters to deal with a number of issues.
The FAI say the meeting was held in a workmanlike and professional manner.
Trap described the meeting as useful - it addressed points that were raised by the FAI Board, believed to include Trap's communication issues and attendance at games in the UK.