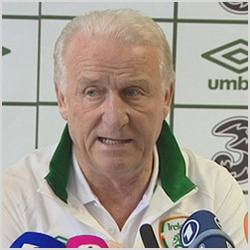 Friday
Windy
High 14°C
Low 4°C
Giovanni Trapattoni is to remain in charge
Tweet

18.10.12


Giovanni Trapattoni will continue as manager of the Republic of Ireland after a meeting of the ten man FAI board came to the conclusion that qualification for Brazil in 2014 remains a realistic and achievable prospect.

In what was described as a 'tense meeting', the cash strapped association opted not to take the costly option, said to be over €3 milllion, to sack their manager.

An appeal by several key players said to include Robbie Keane, John O Shea and Keith Andrews is also said to have influenced the boards decision.

With fans said to be disillusioned with Traps style of tooball and managemant skills they may well stay away in droves for next months home friendly with Greece.