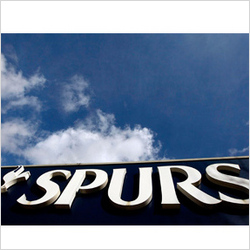 Wednesday
Windy
High 13°C
Low 7°C
Tweet

04.10.12


After couple of dramatic nights in the Champions League the Europa League takes centre stage tonight.
Spurs are in Greece to take on Panathanaikos having drawn their opener at home against Lazio 0-0.
And while many question the value of the competition Andre Villas' Boas side are certainly taking it seriously.
Clint Dempsey told a press conference: "To be able to even be in this competition you have to have done well in your own league so it's something that everybody doesn't get the opportunity and people are excited about the possibility of going on a good run."
That match is live at 5.50pm this evening on 3e and 3player.
Tommy Martin and Republic of Ireland international Stephen Kelly will be keeping an eye on the action.
Liverpool and Newcastle also have home ties in the competition tonight. Liverpool face Udinese while Newcastle play Bordeaux.