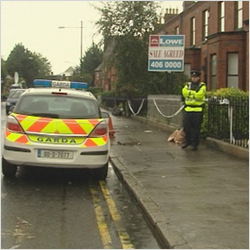 Wednesday
Windy
High 14°C
Low 4°C
Gangland crackdown pledged
Sorry, TV3 videos are no longer available to watch in your region
We now have a new home on the Roku box where all your favourite, award-winning TV3 programming as well as latest Irish news are available to view. For more information on how you can stay up to date with the best of TV3, please visit www.tv3.ie/roku
Tweet

25.09.12


The Minister for Justice Alan Shatter and senior Gardai have promised to get tough on gangland criminals.
They have also released further information about last night's killing of Declan O' Reilly in Dublin, which was the fifth violent death in as many days.
O'Reilly (32) and his 12 year old son had been in shops at nearby Leonard's corner last night. They were walking home at around 8pm last night when he was gunned down in front of the child.
The gunman and his get away driver made their escape in a silver BMW car, which had been stolen in Clondalkin last week.
It was later found burnt out with the gun used in the killing inside.
Declan O Reilly knew his life was in danger. This was the second attempt to kill him since he was acquitted of killing fellow inmate, Derek Glennon, in Mountjoy prison in 2007.
One of the main lines of enquiry is that his murder was in retaliation for Glennon's.
Less than 12 hours before he was shot in an unrelated gangland murder Gerard Egglinton was shot in front of his step daughter and young son in Portarlington Co Laois.
He was a senior member of Brian Rattigans gang and it's believed he was murdered by a rival gang run by Fat Freddie Thompson.
The Justice Minister has condemned the murders describing them as barbaric he said the Gardai are "determined to do everything possible to bring those responsible to justice."
He said they "continue to target and bear down heavily on the activities of those involved in gangland crime."
Gardai are appealing to anyone with information about either of the murders to contact them.