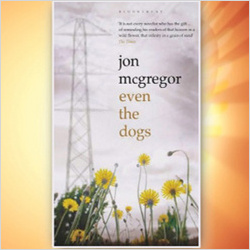 Wednesday
Windy
High 13°C
Low 4°C
Bord Gáis Energy Book Club: Even The Dogs
Sorry, TV3 videos are no longer available to watch in your region
We now have a new home on the Roku box where all your favourite, award-winning TV3 programming as well as latest Irish news are available to view. For more information on how you can stay up to date with the best of TV3, please visit www.tv3.ie/roku
Tweet

25.09.12


Bob Johnston from the Gutter Bookshop and Image Magazine's Fiction Editor Rachel Glover join us to share their thoughts on Even the Dogs by Jon McGregor.

Even the Dogs by Jon McGregor has been described as disturbing and bleak by some, but profound and very beautiful by others. It impressed critics this year and earned McGregor the coveted IMPAC Award, which is the largest and most international prize of its kind.

Bob's Review of Even the Dogs by Jon McGregor

I've been a fan of Jon McGregor's writing since his first novel 'If Nobody Speaks of Remarkable Things' appeared in 2002. His second book 'So Many Ways to Begin', a Scottish love story, is still one of my favourite books and one that I recommend to people regularly in the bookshop.

His latest novel 'Even the Dogs' won the International IMPAC Dublin Literary Award earlier this year. I'd been told that 'Even the Dogs' was a dark, unrelenting and difficult book to read so I wasn't sure if I would like it but, although it's definitely bleak in places, I thought it was a wonderful book.

It begins with the discovery of the body of Robert, an alcoholic who lost his wife, daughter, home and life due to the drink. As his corpse is removed from his squat and undergoes a post-mortem, and is then eventually cremated, McGregor describes his life and those of the drug-addicted friends that surrounded him.

The use of language and writing technique in the book is extraordinary. We appear to hover above the characters, almost like a film camera, as they search for the next fix of drugs or alcohol, but the author also manages to make us empathise with their struggles against the system and their wasted lives.

McGregor's skill as a writer shines through in his ability to construct such a complex and literary novel whilst portraying the most marginalised and unsympathetic of characters.

A dark book certainly, but one written with empathy and understanding.

Rachel's review:

Even the Dogs, to my mind, is above all a story of ruined potential. Even the setting into which the reader is introduced, a filthy house which is a junkies' squat, had been originally intended as a loving family home. The father of that one-time family lies dead on the floor, his body crawling with maggots. Cause of death is a mystery, concluded to be a probable result of years of ruining his once-healthy body with drugs and alcohol.

Saddest of all, as is revealed as the story progresses, is that the baby daughter, Laura, had returned to see her long lost father and she too had been introduced into the drug scene. House, family, father and daughter are all ruined. With these facts, there is an uncomfortable sense that the reader should be disgusted; however the setting and characters, even at their most horrific, are described with almost clinical dispassion, and a disconcerting lack of emotion, perhaps making true empathy impossible.

There is a sense of mourning for what could have been, rather than distress over what is. This leads into the use of language- staccato sentences with lack of 'proper' grammar and punctuation lend a 'stream of consciousness' feel to the text, which, to a point, gives an insider look at those marginalised lives. Overall, a profound, unusual and very poignant text. (Even if somewhat depressing!)

Winning Viewer Review:

From Pamela Brady in Lucan, Co.Dublin

Narrators in McGregor's powerful novel Even the Dogs are ghostly figures lurking in shadows. Dead due to a batch of bad heroin, they remain in death as they did in life - on the fringe. We fall through the cracks along with lives fractured by drugs. An uncomfortable, desolate, addictive read.