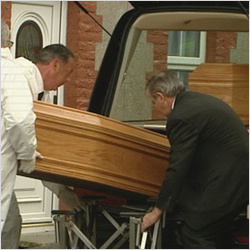 Sunday
Mostly Sunny
High 14°C
Low 8°C
Gardai investigate suspected drug deaths
Sorry, TV3 videos are no longer available to watch in your region
We now have a new home on the Roku box where all your favourite, award-winning TV3 programming as well as latest Irish news are available to view. For more information on how you can stay up to date with the best of TV3, please visit www.tv3.ie/roku
Tweet

09.09.12


Gardai are investigating the suspicious deaths of two men in County Cork.
The bodies of the men, both in their twenties, were discovered at a cottage at Abbeylane in Kinsale at around 6.30am this morning.
It's believed the men may have died of a drug overdose but post-mortem examinations will take place to establish the cause of death.