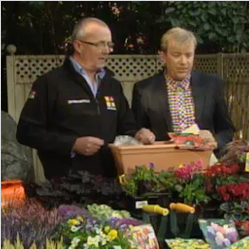 Wednesday
Windy
High 13°C
Low 4°C
Sorry, TV3 videos are no longer available to watch in your region
We now have a new home on the Roku box where all your favourite, award-winning TV3 programming as well as latest Irish news are available to view. For more information on how you can stay up to date with the best of TV3, please visit www.tv3.ie/roku
Tweet

06.09.12


Why not bring a welcome splash of colour to your garden this Winter by planting flowers that will bloom all the way to Spring?
Joining us this morning to tell us more is gardener, Paraic Horkan.
Tips for Autumn/Winter Flowers:
Plant in September
Use a mixture of flowering & foliage plants
Underplant with Spring flowering bulbs
In today's gardening slot - autumn is Natures Time to Plant - Paraic added autumn and winter colour to Patio planters and containers. He replanted some window boxes and patio planters with both foliage and flowering plants to add colour to all gardens from September through to early spring.
Paraic used Spring flowering Bulbs ( tulips, crocus, snowdrops, dwarf daffodils and scented hyacinths ), Winter flowering heathers, ornamental cabbage, Autumn and winter flowering pansies, violas and the beautiful winter flowering cyclamen.
Paraic also demonstrated how to pot up some scented Hyacinths and paperwhite bulbs which will flower for Christmas indoors to add both scent and colour to the School classroom or Home.
ITEMS USED -
Autumn & Winter Flowering Cyclamen € 2.99
Winter & Spring flowering Heather €2.99
Winter & Spring flowering Pansies - 4 packs for €12
Spring flowering bulbs - 18 bulbs for 5.99 buy 2 packs for €10
Growise soil enricher €4.99
Autumn Gardening fact sheet available on website - www.gardencentre.ie
Weekly blog www.gardencentre.ie/blog