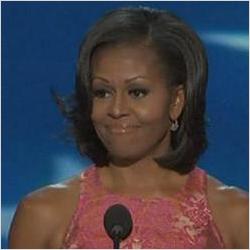 Thursday
Showers
High 18°C
Low 13°C
Michelle Obama wows convention with passionate speech
Sorry, TV3 videos are no longer available to watch in your region
We now have a new home on the Roku box where all your favourite, award-winning TV3 programming as well as latest Irish news are available to view. For more information on how you can stay up to date with the best of TV3, please visit www.tv3.ie/roku
Tweet

05.09.12


America's first lady Michelle Obama has delivered a passionate speech in praise of her husband at the Democratic National Convention in North Carolina.

She drew both cheers and tears from the crowd, as she described her husband as a devoted spouse and caring father, as well as a leader who can be trusted to revive the nation's economy as president.

As her husband prepares to run for re-election, Mrs Obama told the crowd he was the right man for the job.