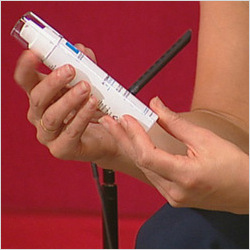 Sunday
Mostly Sunny
High 14°C
Low 8°C
Sorry, TV3 videos are no longer available to watch in your region
We now have a new home on the Roku box where all your favourite, award-winning TV3 programming as well as latest Irish news are available to view. For more information on how you can stay up to date with the best of TV3, please visit www.tv3.ie/roku
Tweet

31.08.12


They are potent powerhouses in skin care and whatever your skin concern they can get you faster results than just moisturiser alone. So, how do serums work and when we go shopping for one what should we be looking for?
Beauty expert Laura Bermingham gives us her selection of the top 5 serums.
DARK SPOTS
Kiehl's Clearly Corrective "Dark Spot Solution" €41, Wicklow St, Dundrum Town Centre & Arnotts.
Dark spot correctors have flooded the market in recent years, each brand developing their own mostly botanical blends to combat these age spots. Kiehl's new version of this serum has more concentrated small molecule Vitamin C to quickly erase those spots in as little as 4-12 weeks, far less time than other brands. Suitable too for sensitive skin according to Kiehl's. With a couple of weeks a person with normal to dry skin would see an increased uniformity in skin tone with the mild discolorations evening out, but it will take longer for actual dark spots to show a reduction in shade. With some brands it can up to 6 months so this is less of a commitment.
Apply twice daily or if you prefer just at night before night cream to the entire face. It can also be used just on visible dark spots if you want.
Always wear an SPF day cream when using a serum.
LASER LIFT
L'Oreal Paris "RevitaLift Laser Renew Serum" €37.49, stockists nationwide.
Revitalift Laser Renew is the first mass market intensive anti-ageing skincare to be tested in the same study as a fractional CO2 laser widely considered to be an effective laser procedure for fine lines and wrinkles. Conducted on 50 women aged 45-55 with similar signs of ageing around the eye area, one group of women had a fractional CO2 laser session on crow's feet. The other group used Revitalift Laser Renew, twice a day, for 2 months. The active ingredients in this range are- Pro-Xylane which stimulates collagen and reduces fine lines and wrinkles. Hyaluronic acid which retains water in the skin, and LHA a gentle exfoliating agent. All three work to give smoother, more plumped skin.
The test revealed that Revitalift Laser Renew resulted in an 18% improvement in skin roughness and the fractional CO2 session resulted in a 20% improvement. There was a 14% reduction in fine line depth with Laser Renew and a 17% decrease with the fractional CO2 session.
There is a day and night cream in the new Laser Renew range along with this serum.
To use, apply the Serum every morning and/or evening to a thoroughly cleansed face, either alone or before your Laser Renew cream. Apply a few drops directly to skin and smooth over the entire face once or twice a day.
Always wear an SPF day cream when using a serum.
BREAKOUTS
REN "ClearCalm 3 Replenishing Night Serum" €25, call Blue Sky Products on 01 461 0645 for stockists.
REN's ClearCalm3 system combats the 3 key causes of breakouts and blemishes: excess sebum; build up of dead skin cells; blemish-causing bacteria... without harshness. A soothing and replenishing gel-serum formulated for use overnight to leave skin comfortable, clear and calm. A combination of Japanese licorice extract (which calms inflammation, reduces breakout scars and reduces sebum flow) and lingonberry oil (rehydrates skin and further lightens blemish scars) work alongside chamomile, lavender and sage that soothe and calm the skin.
Apply at night onto clean skin, gently massage until absorbed.
Always wear an SPF day cream when using a serum.
DEHYDRATION
La Roche Posay "Hydraphase Intense Serum" €23, pharmacies from MID-SEPTEMBER.
Dehydrated skin lacks water and it contributes to dull, lacklustre skin and premature ageing. Hydraphase Intense Serum is a thin, fresh, delicate gel which penetrates the skin for immediate and long lasting hydration and a plumping effect. Dehydrated skin lacks water and ages faster. The reduction of Hyaluronic Acid levels, naturally present in the skin, leads to skin losing flexibility, it gets weaker and the first signs of ageing appear. Using a serum like this that is packed full of Hyaluronic acid and soothing mineral water really heps get the moisture back into the skin and leaves it with more bounce and suppleness.
Suitable for twice daily application, or just once if you prefer.
Always wear an SPF day cream when using a serum.
NEW AGE
Avon Anew "A-F33 Line Corrector" €39, or 1800 932160 from September 1st.
ANEW Clinical Pro Line Corrector Treatment is a collaboration between Avon and brand Neostrata who discovered AHA's more than 20 years ago. A-F33 (Amino-Fill 33) is an innovative molecule that has been found in testing on skin cells to work in a way that other well known anti-ageing ingredients don't.
An amino acid molecule, these are the building blocks of proteins needed to promote collagen production which dwindles in the skin with ageing and UV damage.
Avon conducted a dermatologist supervised clinical study that found-100 percent of participants showed an improvement in the appearance of fine wrinkles after 11 weeks, while 96 percent showed an improvement in deep wrinkling.
Results based on twice daily use, it can be used just once a day as well.
Always wear an SPF day cream when using a serum.


Related video:




Web only Q&A: Laura Bermingham