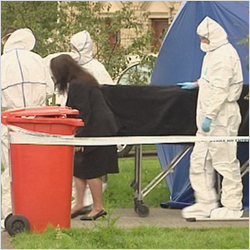 Monday
Partly Cloudy
High 19°C
Low 9°C
Murder investigation underway in Dundalk
Sorry, TV3 videos are no longer available to watch in your region
We now have a new home on the Roku box where all your favourite, award-winning TV3 programming as well as latest Irish news are available to view. For more information on how you can stay up to date with the best of TV3, please visit www.tv3.ie/roku
Tweet

30.08.12


A murder investigation has been launched in Dundalk following a violent assault on a 34-year-old mother of three.

Jacqueline McDonagh died after the attack, which took place in her home in the town.

She was pronounced dead at the scene.

The house has been sealed off as Gardaí carry out a forensic examination as part of their investigation into the death.

The Deputy State Pathologist Dr Michael Curtis performed a preliminary examination before carrying out a full post mortem at Our Lady of Lourdes hospital in Drogheda.