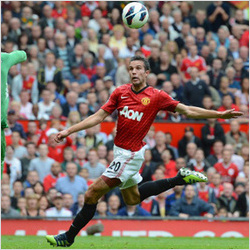 Friday
Windy
High 14°C
Low 4°C
United scrape past spirited Fulham at Old Trafford
Tweet

25.08.12


New signing Robin van Persie helped Manchester United overcome a slow start at Old Trafford to beat Fulham 3-2 in the Premier League on Saturday.

Van Persie, who joined United from Arsenal earlier this month, scored his first goal for his new club in the 10th minute to equalize after the visitors opened the scoring through Damien Duff in the 3rd.

Midfielder Shinji Kagawa, another United summer signing, gave the home side the lead in the 35th and Rafael Da Silva added a third in the 41st. Fulham clawed one back in the second half through Nemanja Vidic's own goal in the 64th, but despite several shaky moments from goalkeeper David De Gea, United held on for its first victory of the campaign.

Meanwhile, Wayne Rooney, who came on as a second-half substitute, has been ruled out for up to month after sustaining a deep gash to his thigh after a coming-together with Hugo Rodellega.