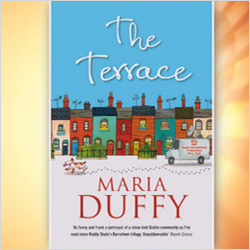 Wednesday
Windy
High 13°C
Low 4°C
Bord Gáis Energy Book club: The Terrace
Sorry, TV3 videos are no longer available to watch in your region
We now have a new home on the Roku box where all your favourite, award-winning TV3 programming as well as latest Irish news are available to view. For more information on how you can stay up to date with the best of TV3, please visit www.tv3.ie/roku
Tweet

22.08.12


Four years ago busy Mum of four Maria Duffy decided to dust off the book she'd once started, and as soon as she began writing again, she realised it's what she wanted to do for the rest of her life.
But it was also her use of Twitter that was to aid her in pursuing her dream.
Her first novel, was published in 2011 after a literary agent tweeted her and now Maria writes a blog for Hello magazine and has just had novel number two, The Terrace published.
Maria joined us to tell us why we should always keep an open mind when it comes to following our dream job!
If I told you that Twitter played a large part in helping me to fulfil my dream, would you believe me? Would you look at me, astounded, and tell me that you thought it
was just a place where people tweeted things about X Factor and stalked their favourite celebrities? Well, read on!
I've always loved writing. As a child, I devoured books and for as long as I can remember, I dreamed of writing one. I always imagined myself as a college
girl, earning a degree in English or journalism- anything that might help me to become a bestselling author. But as often happens, my life took a different path and I ended up working in the bank. Although I was still writing bits and pieces, as the years went by, I became less confident and thought I'd missed my chance.
I got married and had four children in quick succession and those first years of motherhood went by in a haze of nappies and sleepless nights. But my dream never left me. When I eventually came through the haze and my youngest started school, I decided to write that book that was screaming to get out of me. For the first time in ages, I had time to myself during the day and the words just spilled out onto the page. I loved it. I loved everything about bringing a fictitious world to life
- being the puppeteer and making my characters do whatever I wanted them to. I knew I'd found what I wanted to do for the rest of my life. That was three
years ago. During the following months, I attended a number of writing workshops and events where I could meet other writers. Suddenly, I went from knowing
nobody in the world of writing, to befriending authors, journalists, publishers - all willing to share their knowledge and expertise. Then one day, a fellow writer gave me a piece of advice that made me shudder. "Get yourself onto Twitter," she said. "If you want to be a successful writer, you need to build up a social network platform." Being a complete technophobe, I balked at that. I'd only ever heard of Twitter when Dermot O'Leary would announce on The X Factor that people should tweet in to them with their comments!
My first tweets were tentative. I felt silly and thought nobody would want to hear what I had to say. Within a few weeks, I was hooked! What I loved about Twitter was that I could be myself. I didn't have to use flowery descriptions or try to write in a certain way. Instead of feeling confined by the short 140 characters per tweet, I felt liberated. It allowed me to say things in a short, snappy, humorous way. Within a year of joining twitter, I started a blog for a magazine about celebrities who tweet. Writing can
be very lonely sometimes so this was the perfect way to have a bit of variety. I'd make contact with the celebrities on Twitter and then go and interview them. In the last year, I've interviewed some lovely and interesting people including Eamonn Holmes and Ruth Langsford, Gino d'Acampo, Carol Vorderman and those bouncy boys, Jedward. But I was still beavering away at my novel writing; still chasing that elusive dream.
In August of 2010, I got a message on Twitter from a literary agent called Sheila Crowley. She wanted to meet me. Our paths had crossed a couple of times
at writing workshops and I knew she was a very successful, well respected agent. She represented some of the biggest names in Irish women's fiction, such as Melissa Hill and Colette Caddle. As you can imagine, I was intrigued and excited. When we met, she told me that she loved my tweets. She said I was natural and funny and if I
could write a book in that same Twitter voice, then I'd have something special. She told me to go and write something new and fresh and she'd take a look at it. That's when Any Dream Will Do was born. Sheila signed me up when she read the first few chapters and I had the book written by Christmas.
By April, I had a two book deal with Hachette Books Ireland and on November 8, Any Dream Will Do was launched to a huge crowd in Dubray Books in Grafton Street. More than a hundred people came to celebrate with me, as Keith Barry, mentalist and illusionist, did the honours of launching the book. Twitter really has played a huge part in my writing career. It's helped get me to where I am now - up on that virtual cloud nine, living the dream!
You can follow me on twitter at @mduffywriter
The Terrace By Maria Duffy
'As funny and frank a portrayal of a close-knit Dublin community as I've read since Roddy Doyle's Barrytown trilogy. Unputdownable.' Niamh Greene, author of A Message to your Heart
About the book
On St Enda's Terrace everyone is happy, everyone is friendly, neighbourly, and all of the other good things that people are to each other in a close-knit community.
But the residents of this street don't share everything with each other.
Marco doesn't tell anyone that he's smitten with someone he's never met. Barry doesn't confide in his neighbours when it comes to the problems in his marriage, and has no idea that his wife Lorraine is keeping something to herself that could change everything for them. Maggie, who has lived on the street most of her life, is known as the glue that holds the community together. But she is beginning to find that she's not as full of energy as she once was, and is keeping it a secret from everyone, including her husband.
It seems there might be something else the people of St Enda's are reluctant to share - money.
When the street syndicate strikes it lucky, winning the National Lottery jackpot, everyone is overjoyed, and is instantly thinking about how the money will change their lives for the better. Just one problem: nobody knows where the ticket is. At least, nobody admits to knowing where it is.
A frenzied search begins and the St Enda's Terrace residents find themselves caught between old friendships and new suspicions. Moreover, they are forced to maintain their traditional warm, friendly façade when a New York production company arrives to film them for a documentary about the warmth of Irish people. But, as friendships disintegrate and information long held secret begins to come to light, it looks like the film crew will be getting more than they bargained for.