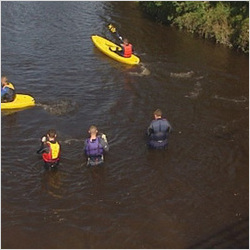 Monday
Drizzle
High 16°C
Low 7°C
Search continues for missing Wicklow teen
Sorry, TV3 videos are no longer available to watch in your region
We now have a new home on the Roku box where all your favourite, award-winning TV3 programming as well as latest Irish news are available to view. For more information on how you can stay up to date with the best of TV3, please visit www.tv3.ie/roku
Tweet

22.08.12


A search for a missing Wicklow teenager will continue today.

Eighteen-year old James Sheehan, from Arklow, was last seen leaving a nightclub in the early hours of Sunday morning.

Hundreds of people have volunteered to help in the search.

When last seen James, who is six feet two and of athletic build, was wearing a grey hoodie and blue jeans.

Gardaí searching for James will focus their search on areas around Arklow, including the Avoca River.

Gardaí point out that the search of the river is not motivated by specific information, but is part of the standard practice of searching a 1,500 metre radius of where a missing person was last seen.