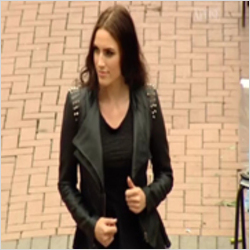 Monday
Partly Cloudy
High 17°C
Low 16°C
Sorry, TV3 videos are no longer available to watch in your region
We now have a new home on the Roku box where all your favourite, award-winning TV3 programming as well as latest Irish news are available to view. For more information on how you can stay up to date with the best of TV3, please visit www.tv3.ie/roku
Tweet

21.08.12


Who would have guessed that Nineties trends would ever revisit the runway, especially at a time when fashion watchdogs slammed its distressed jeans, simple tees and worn down biker fashion.

But with celebrities such as Kristen Stewart and Daisy Lowe embracing Balenciaga's and McQueen's recent biker inspired collections, it looks like the leather jacket has been earmarked as a 'must-have' autumn staple.

Today, we challenge the leather look with this cropped, faux leather studded jacket.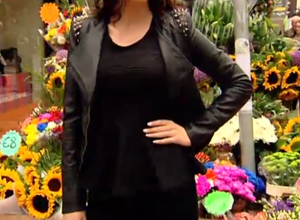 Black Stud Belle Luxe Jacket from Pamela Scott. Cost: €69.95

"This is a five star buy. It's a great little fit, lovely to nip you in at the waist and give you that lovely waistline and it's just a great jacket with super value. I like it open with a plain top underneath. I also loved it zipped up because it has a nice diagonal shape to it. Great jacket, great buy, love it with the black but I'd also like with indigo but it's a superb look from Pamela Scott's at €69.95," says stylist Lisa Fitzpatrick.

The particular star buy comes in sizes S to XL and since it is heavily embellished on the shoulders Lisa advises that the accessories should be kept to a minimum.

"Less is more. Don't put studs on your bags. Keep it simple. It is all about the studs on the shoulder. That's the piece you're rocking. That's the piece you're working and everything else has got to be simple."

The best thing about the updated take on the classic biker jacket is that it comes in a variety of colours to suit all tastes and our favourite happened to be the soft khaki.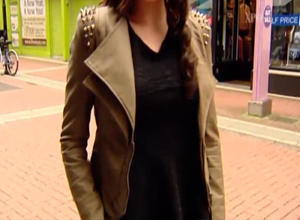 Khaki Stud Belle Luxe Jacket from Pamela Scott. Cost: €69.95

"What I love about this is that if you really want to emphasise that waist this is going to do it because of the shape but if you've got a tummy it will also cover up that area for you too. It is really a versatile piece that can be worn with quite a lot of different styles even rocking a nice little black fitted dress and a clutch bag and a pair of heels – you're good to go," adds Lisa.

For more on this jacket featured today, check out the video above or visit www.pamelascott.ie