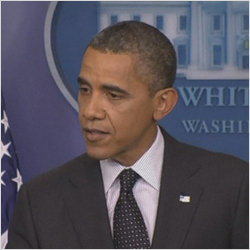 Tuesday
Mostly Sunny
High 16°C
Low 8°C
Obama warns Syria over chemical weapons
Sorry, TV3 videos are no longer available to watch in your region
We now have a new home on the Roku box where all your favourite, award-winning TV3 programming as well as latest Irish news are available to view. For more information on how you can stay up to date with the best of TV3, please visit www.tv3.ie/roku
Tweet

21.08.12


US president Barack Obama has warned the White House's attitude to possible military involvement in Syria would change if chemical or biological weapons are used in the conflict.

Speaking to reporters at the White House, Obama said the use of such weapons of mass destruction would considerably widen a conflict that has already dragged on for a year-and-a-half and killed some 20,000 people, according to activists.

Syria possesses extensive chemical and biological weapons stockpiles and has threatened to use them if the country comes under foreign attack. "That's an issue that doesn't just concern Syria.

It concerns our close allies in the region, including Israel. It concerns us," Obama said, also acknowledging the possibility that militant groups might acquire chemical weapons

"We cannot have a situation where chemical or biological weapons are falling into the hands of the wrong people."

The Syrian conflict has now spilled over into neighbouring Lebanon. Smoke has been seen rising over the port-city of Tripoli. Tanks have also been seen prowling the streets in scenes mirroring those that have become familiar in Syrian cities.

In Syria itself, UN observers are packing up and leaving, signalling an end to a mission which most believe was an abject failure.

A Japanese woman has become the latest journalist to be killed in the escalating violence. Veteran war-reporter, Mika Yamamoto, was covering the conflict for an independent television news service.

She was hit by gunfire in the city of Aleppo, which continues to see some of the worst battles.