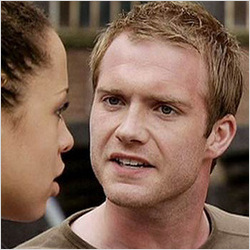 Wednesday
Windy
High 13°C
Low 4°C
Chris Fountain: I'm no heartthrob
Tweet

20.08.12


As a concerned Tommy makes the surprise decision to track down a missing Kirsty, to try to help out his best friend Tyrone, actor Chris Fountain chats about why Tommy is forced to take action and the unexpected fallout.

Question: Tommy has never liked Kirsty and probably with good reason so why is he so determined to try and go and get her back?

Chris: I think when it first all kicked off and Tyrone first met Kirsty Tommy was kind of alright with it but then as it's gone on at the moment he's seen her true colours really and he's seen a side to her he really doesn't like. But in all aspects Tyrone is his best friend so to see Tyrone upset is like a real big factor for Tommy because although he doesn't like Kirsty if she's going to stop Tyrone from being sad then if that's what it takes then that's what Tommy's got to do.

Q: Does he believe Kirsty's good for Tyrone or in his heart of hearts would he really prefer Tyrone not to be with her?

Chris: Really he doesn't think she's good for Tyrone at all. He's not her biggest fan, she's disruptive to Tina, she's just an all round not a very nice person so I think if Tommy could persuade Tyrone to be with someone else then he would but at this point in time he can't.

Q: Tyrone isn't making much of an effort to find Kirsty though is he? Does Tommy wonder why this is?

Chris: Well when Tommy first sees's Tyrone all upset about Kirsty leaving I imagine Tommy has gone through the same sort of feeling before, when someone leaves you. You just mope around and it really takes it out of you, you need someone else to give you a kick start really so Tommy's trying to be that catalyst.

Q: Eventually Tommy does find out where Kirsty is and he turns up at her maternity appointment so what does he say to try and get her back as obviously Tommy and Kirsty have never been the best of friends?

Chris: Tommy's not particularly nasty to Kirsty but he tries to guilt trip her and says Tyrone's not functioning, he's just a shell, not cleaning the house, he's all a bit of a mess. As she continues to say she won't come back he says he knew she wasn't particularly nice but he didn't think she was cruel and then leaves her, which is what brings it home to Kirsty.

Q: Obviously Kirsty comes back and Tommy tells Tina about his part in it and that's when Tina finally breaks the confidence about what's been going on with Tyrone and Kirsty. What does Tommy think when Tina tells him this?

Chris: He's gutted when Tina tells him what Kirsty's been doing as he's just spent all his time going to find Kirsty because he thought he was doing the right thing, he genuinely thought he was doing something to help, although it does help Tyrone when he see's her as he starts to act ok again. It's frustrating for Tommy because he's got what he wanted but now he's found out some other story he's asking himself what he's done.

Q: Is he cross at all with Tina that she hadn't confided in him or does he accept that it wasn't really for her to tell him?

Chris: Initially he's quite annoyed because he would have liked to have known but I think he respects the fact that she was being loyal to Tyrone.

Q: When Tommy see's that Tyrone has a burnt hand, which is something quite innocent, what happens?

Chris: Tommy jumps to conclusions straight away thinking it's Kirsty that's burnt Tyrone. Later, in the street Kirsty kicks off about something as she usually does but Tommy tries to diffuse the situation by taking himself and Tina away, leaving Tyrone to deal with her. However, Kirsty starts on Tommy and Tina, saying that Tina is after Tyrone. At this point Tommy has had enough and looses his rag and even though Tina had told him not to say anything about what she had told him Tommy says to Kirsty well lets talk about what you've been doing then.

Q: After this has been said are there any other issues of conflict between them later?

Chris: Yes, they're in the Rovers and Tommy has lost his job because of the argument with Kirsty on the street. Kirsty is gloating about the baby and that she's back with Tyrone and so Tommy again see's red and starts shouting at Kirsty in the pub but he doesn't quite bank on the fact that Tyrone still hasn't told anybody about him putting drugs through the garage and so Tyrone brings that up. Therefore no one believes Tommy and Tina about Kirsty being violent towards Tyrone so they leave and Tommy is left looking like the villain.

Q: What might this mean for Tommy and Tina's relationship because they've been through so much?

Chris: They've been through so much in such a short period of time. It's a little bit sad really because they're a young couple not having much fun and they've never really had a smooth run at it, they've just been thrown in to the deep end straight away and it's just been go from the start. I think it will have an effect on their relationship, how big we're not sure.

Q: Tommy and Tyrone are obviously really close friends, do you think Tommy's going to struggle now not having that relationship?

Chris: Yes definitely, Tommy's gutted that he's fallen out with Tyrone, even more so that Tyrone is lying to people and saying that it's not happening when really it is. Tommy can't figure out why Tyrone is lying and it's quite upsetting for him. He's also upset because Tommy and Tina know the truth but no one on the street believes them, so now Tommy can't get a job on the street, he's been sacked from the garage and everyone thinks he's telling lies, when he isn't.

Q: Do you think Tommy has done the right thing? What would you do under these circumstances?

Chris: I think Tommy has probably done the right thing by trying to tell people but I think there is a way and means of doing it and I think he's let his head rule his heart and just blurted everything out. I think he means well and he's trying to do the right thing but things don't always go the way you plan. I personally would have sat down with Tyrone and tried to have talked some sense in to him that way.

Q: How has it been filming those emotional scenes?

Chris: It's been great because I've done a lot of funny scenes as Tommy so it's good to do something different. I do really like working with Michelle, we get on really well and we work well together, as well as with Alan, they're all fantastic actors and it's nice to have those scenes when it's just you two and you can feel the intensity on the set, it's good to really get in to the scenes.