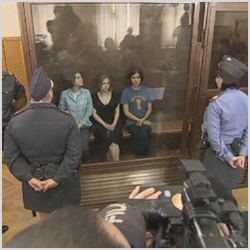 Thursday
Windy
High 11°C
Low 5°C
Pussy Riot jail term sparks condemnation
Tweet

18.08.12


There has been international condemnation following the court ruling for Russian punk band Pussy Riot.

The female three-piece were each sentenced to two years behind bars yesterday for an act of protest inside one of Moscow's main cathedrals.

Amnesty International vowing to escalate its campaign to have the three women released from prison.

The band members have already spent five months behind bars after being arrested for screaming "Mother Mary, please drive Putin away" at the Cathedral of Christ the Saviour.

Meanwhile Russia's Orthodox Church have appealed to the country's authorities to "show mercy" on the act.