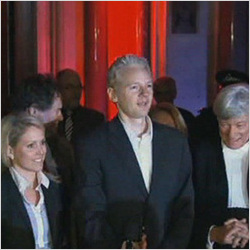 Thursday
Windy
High 11°C
Low 5°C
Assange granted asylum by Ecuador
Sorry, TV3 videos are no longer available to watch in your region
We now have a new home on the Roku box where all your favourite, award-winning TV3 programming as well as latest Irish news are available to view. For more information on how you can stay up to date with the best of TV3, please visit www.tv3.ie/roku
Tweet

16.08.12


Wikileaks founder Julian Assange's request for political asylum has been granted by Ecuador.

He took refuge in the building in June to avoid extradition to Sweden where he faces questioning over allegations of sexual assault.

Ecuadorian Foreign Minister Ricardo Patino says Ecuador found that Assange faces a real threat of political persecution including the threat of extradition to the United States, where Patino said the Australian would not get a fair trial and could face the death penalty.

This morning Police and protestors clashed outside the Ecuadorian embassy in London. The clashes follow last night's claim that the British government was threatening to storm the embassy if the country refuses to hand over the 41-year-old.

British authorities have maintaned that they have a "legal duty" to apprehend Assange so that he can be extradited. Assange and his supporters say that the extradition to Sweden would be followed to extradition to America where Assange could face espionage charges.

The Swedish government has now summoned Ecuador's ambassador to Sweden to discuss the decision. Stockholm Foreign Ministry spokesman Anders Jorle said Thursday, "We want to tell them that it is unacceptable that Ecuador is trying to stop the Swedish judicial process."