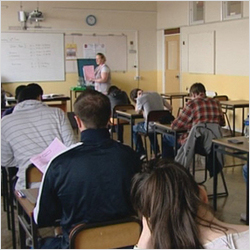 Friday
Windy
High 14°C
Low 4°C
Concerns for new Leaving Cert maths syllabus
Sorry, TV3 videos are no longer available to watch in your region
We now have a new home on the Roku box where all your favourite, award-winning TV3 programming as well as latest Irish news are available to view. For more information on how you can stay up to date with the best of TV3, please visit www.tv3.ie/roku
Tweet

08.08.12


With the Leaving Cert results due out next week, there are fresh concerns today about the new maths syllabus.

More than half of maths teachers think the "Project Maths" curriculum won't improve achievement in the subject.

For the first time this year, all leaving cert students were tested in elements of the new project maths syllabus. The curriculum is aimed at making the subject more accessable and user-friendly by placing maths problems in context using everyday examples.

However, critics accuse the program of "dumbing down" the subject. An Engineers Ireland survey of Irish maths teachers shows that over half believe that the new program will not result in increased achievement in the field.

Maths is viewed as one of the most important subjects by employers. A new survey of the jobs market out today shows that there continues to be many of opportunities in the maths-related areas of information technology and life sciences.

The government is currently carrying out research into the effectiveness of project maths. Early data from this research is said to be showing a positive impact on student attitudes.