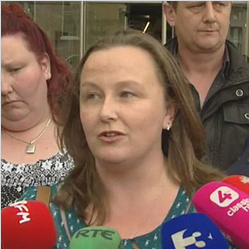 Tuesday
Mostly Sunny
High 16°C
Low 8°C
Man sentenced to eleven years in prison for baby manslaughter
Sorry, TV3 videos are no longer available to watch in your region
We now have a new home on the Roku box where all your favourite, award-winning TV3 programming as well as latest Irish news are available to view. For more information on how you can stay up to date with the best of TV3, please visit www.tv3.ie/roku
Tweet

31.07.12


A County Wicklow man found guilty of killing his ex-fiancé's baby has been sentenced to eleven years in prison.

Philip Doyle was convicted of the manslaughter of three month old Ross Murphy in 2005.

Mr Doyle had pleaded not guilty at the Central Criminal Court to killing three and half month old baby Ross Murphy in 2005.

In a victim impact statement delivered by the family last week, they said that their lives would never be the same.

A jury returned a unanimous verdict of guilty of manslaughter.