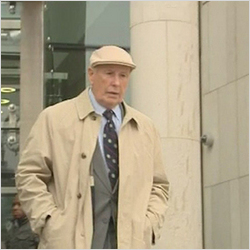 Wednesday
Windy
High 13°C
Low 7°C
Retired consultant surgeon charged with indecent assault
Sorry, TV3 videos are no longer available to watch in your region
We now have a new home on the Roku box where all your favourite, award-winning TV3 programming as well as latest Irish news are available to view. For more information on how you can stay up to date with the best of TV3, please visit www.tv3.ie/roku
Tweet

31.07.12


A retired consultant surgeon has appeared in court charged with indecent assault of 16 male patients over 3 decades.

80 year-old Michael Shine was arrested outside of the criminal courts of justice at five to ten this morning. He was charged and cautioned by detectives before being brought into the district court to be formally charged.

The court heard that when each of the 25 charges of indecent assault were put to him he replied not guilty. He said that he had not been in Ireland at the time one of the alleged assaults took place.

The assaults, which involve 16 male patients, allegedly happened over three decades beginning in the 1960's, at Our Lady's Hospital in Drogheda and at a private clinic in county Louth.

Judge Cormac Dunne granted Michael Shine bail of his own bond of 5,000 euro and ordered that he sign on weekly at Donnybrook Garda station.

Michael Shine must return to court on the 3rd of October to be served with a book of evidence.