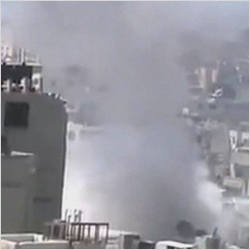 Saturday
Rain
High 11°C
Low 7°C
UN Secretary General warns Syria to halt Aleppo attacks
Tweet

31.07.12


The UN Secretary General Ban Ki-Moon has warned Syria to halt its violent crackdown in the city of Aleppo.

He also noted that his peacekeeping chief, Herve Ladsous, recently went to Syria where he "called on the government to end its use of heavy weapons and demonstrate the commitment to ending the armed violence.

"Government officials have repeatedly said they would honour these commitments. We are still waiting for them to act."

France is now pushing for a new UN Security Council meeting to address the latest bloodshed.

A ten day battle has been raging on in Syria's second city. Hundreds more refugees have been fleeing Syria overnight, many going over the border into Jordan.

Ban Ki-Moon has warned the Syrian Government it has obligations under international humanitarian laws.