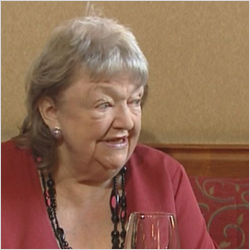 Thursday
Showers
High 10°C
Low 5°C
Tributes pour in for Maeve Binchy
Sorry, TV3 videos are no longer available to watch in your region
We now have a new home on the Roku box where all your favourite, award-winning TV3 programming as well as latest Irish news are available to view. For more information on how you can stay up to date with the best of TV3, please visit www.tv3.ie/roku
Tweet

31.07.12


Tributes have been pouring in for Maeve Binchy, who died last night after a short illness.

She had sold over 40 million copies of her books throughout an illustrious career.

Several of her works were adapted for the screen. Her best known works are 'Circle of Friends' and 'Tara Road'.

Binchy also made Britain's Top 10 most popular writers and the New York Times bestselling list.

Her last novel, 'Minding Frankie' was published in 2010.

Tune in at 7.30pm tonight for a TV3 News Special 'Maeve Binchy : A Life in Words'

President Michael D. Higgins said that he was "deeply saddened to learn that Maeve Binchy has died. She was an outstanding novelist, short story writer and columnist, who engaged millions of people all around the world with her fluent and accessible style.

"She was a great storyteller and we enjoyed her capacity to engage, entertain and surprise us. For others, particularly young and aspiring writers, she was not only a source of great encouragement; but also to so many, of practical assistance. "

Tanaiste Eamon Gilmore also added his voice to the outpouring of grief by saying that "I would like to extend my sincere sympathies to Gordon Snell on the death of his wife Maeve Binchy."

Despite the fact that she was a hugely successful author around the world, she never lost the human touch and would always make a point of taking time to talk to passers-by, well-wishers and supporters."

Taoiseach Enda Kenny also expressed his condolences to the family and paid tribute to one of the most popular authors of her time.