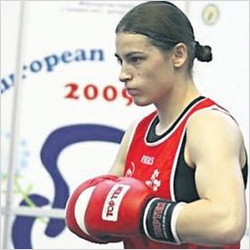 Saturday
Rain
High 11°C
Low 7°C
Katie Taylorís four big threats
Tweet

29.07.12


If Katie Taylor is to win her first Olympic medal in London, these are the women she will have first see off.
The four-time world champion takes on the winner of Natasha Jonas and Quanitta Underwood in the quarter-final on 6 August.
Natasha Jonas (Great Britain)
Like our very own women's boxing hope, Liverpool born Jonas could have carved out a career in women's football. Having represented England at Under 18 level, in much the same vein as Katie Taylor who has played for the Republic of Ireland senior women's side. After spending 18 months on a football scholarship in America, she returned to the UK and took up boxing at the age of 21 just seven years ago.
In 2010, she won her fifth consecutive Senior Amateur Boxing Association title to go along nicely with her gold medals in the 2009 GB Amateur Boxing Championship (64kg) and 2010 GB Amateur Boxing Championships. Jonas' has considerable pedigree, seeing off boxers ranked 2nd and 5th in the world to secure gold at the Olympic test event at ExCel last November.
To qualify for London 2012, the 28-year-old reached the semi-finals of the Women's World Boxing Championships in May, confirming her place as the the first British women boxer to ever qualify for an Olympic Games. She won bronze, going out to Russian Ochigava. With Jonas and Taylor among the favourites, it seems the multi-talented types are the ones to watch. On the field and in the ring.
Quanitta Underwood (USA)
Regarded by many as America's top medal hope, Quanitta Underwood's journey to the first ever Women's Boxing competition at an Olympic Games has been far from straightforward. Shifted from pillar to post as a child and having endured no end of personal trauma in her early life, she stumbled across boxing at the age of 19, nine years ago. Cappy's Boxing Club and Gym in Seattle would play a huge role in the formative years of her boxing career, culminating in an Olympic appearance.
Even just over a month ago, it seemed Underwood would have to wait at least another four year cycle for the Games to come around again. She had been defeated in her qualifier at the Women's World Boxing Championships in May but lost out by a 1 point decision in the round of 16. As far as she was concerned, that was that.
Until that was, a unfilled quota from another qualifying region meant Underwood was awarded a berth as the best loser. That news only came to pass on June 18th, meant there was no time for the suprise to get the better of her. Preparations for London 2012 were afoot.
After winning the lightweight division at the United States Olympic boxing trials in February, she had been set for a smooth passage to the Games. It may have not turned out that way, but she won't mind one jot with a gold medal at stake.
Sofya Ochigava (Russia)
The 25 year old Russian is a familiar foe of Katie Taylor. Ochigava controversially ended Taylor's 42 bout, three year undefeated streak at the Usti na Labem Gran Prix back in 2010. She prevailed 8-1 over four two minute rounds to reach the tournament's final. Taylor landed several punches that were thought would have led to scores, but was adjudged to have lost by 7 points in somewhat bizarre fashion.
The two met again in the final of the European Women's Boxing Championships in 2011, with the Dubliner coming out on top this time around. The presence of the opponent who has so unceremoniously ended her three year unbeaten run a year earlier could stop Katie from winning a fifth consecutive title and gold medal to boot.
Described by Ireland's great medal hope (not wanting to put too much pressure on her, but realistically the demand and expectation is going nowhere) as, "one of the best opponents I've ever met,", Ochigava who herself is a former World and European champion. By "met", it's safe to assume Katie didn't mean bumped into on the street or met at a party.
These two have recently crossed paths too, in qualifying for London 2012. En route to sealing her path to London, they Bray woman picked up her fourth World title in a row with an 11-7 victory over Ochigava.
Afterwards, the champion said, "People always think I'm a given for a gold medal but these fights prove the way boxing is and those fights are just so tight. It was always going to be such a tricky fight, she's absolutely brilliant that girl is."
Hopefully, not that brilliant.
Cheng Dong (China)
Every two years, Katie Taylor seems to face Cheng Dong in a final and a possible semi-final meeting between these two could be in the offing. On both previous occasions, at the Women's World Boxing Championships in 2008 and 2010, Taylor came away with convincing 13-2 and 18-5 points victories respectively and the gold medal.
Still, two silver medals in three years is nothing to be sniffed at. This year though, the competition was a disappointment though with a ninth place finish all Dong could muster in front of a home crowd in Qinhuangdao. The 25-year-old cites Mike Tyson as her hero.
Niall Kelly
Staff Writer, TheScore.ie