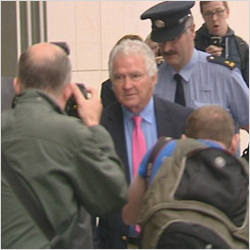 Sunday
Mostly Sunny
High 14°C
Low 8°C
Sean Fitzpatrick charged after arrest
Sorry, TV3 videos are no longer available to watch in your region
We now have a new home on the Roku box where all your favourite, award-winning TV3 programming as well as latest Irish news are available to view. For more information on how you can stay up to date with the best of TV3, please visit www.tv3.ie/roku
Tweet

24.07.12


Sean Fitzpatrick has appeared in court following his arrest earlier on today and has been charged in connection with financial irregularities at the former Anglo Irish Bank.

He was charged with 16 offences as part of an ongoing investigation by the Garda Bureau of Fraud Investigation and the Office of the Director of Corporate Enforcement into alleged financial irregularities at Anglo.

The bank's former Chief Executive and Chairman is accused of permitting Anglo to give financial assistance to 16 people in order to allow them buy shares in the bank.

The 16 are Sean Quinn's wife Patricia and their five children as well as ten businessmen who became known as the 'Maple 10'

Sean Fitzpatrick was arrested this morning as he disembarked from a flight at Dublin airport.

His legal team said once he became aware that Gardai wished to speak to him, he made contact with the authorities via his solicitor and arranged to meet Gardai at the airport.

Sean Fitzpatrick was then taken to the Bridewell Garda Station in Dublin and charged shortly after 8 o'clock this morning. As each of the 16 charges were read out to him he replied "no comment".

He will appear in court again on the 8th of October and was granted bail of one-thousand euro. He will have to reside at his home in Greystones, County Wicklow and sign on every Wednesday at Irish Town Garda station in Dublin.

He is the third person to appear before the courts in relation with the investigation into the bank.

Two former Anglo executives, Willie McAteer and Pat Whelan appeared in court charged with a number of offences yesterday.