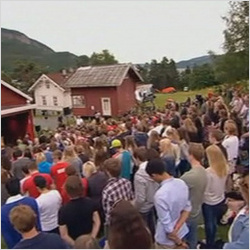 Friday
Windy
High 14°C
Low 4°C
Norway remembers massacre victims on anniversary
Sorry, TV3 videos are no longer available to watch in your region
We now have a new home on the Roku box where all your favourite, award-winning TV3 programming as well as latest Irish news are available to view. For more information on how you can stay up to date with the best of TV3, please visit www.tv3.ie/roku
Tweet

22.07.12


Norway has been remembering the 77 people killed by Anders Behring Breivik a year ago today.

Wreaths were laid outside the damaged government headquarters in Oslo, where a bomb left by Breivik killed 8 people, and a memorial service took place in Oslo cathedral.

A ceremony was also held on Utoya Island, where Breivik shot dead 69 people.

The far-right fanatic confessed to the killings but denied criminal responsibility.